CFA Society Singapore Ethics Workshop (Individual)
Uphold ethical standards during performance of individual duties and responsibilities
Register
Sign-ups, kindly download and complete the registration form and email to eventmanagement@cfasingapore.org
The 6 hour course will deepen your understanding of ethical issues to uphold ethical standards during performance of individual duties and responsibilities.
---
Hosted by CFA Society Singapore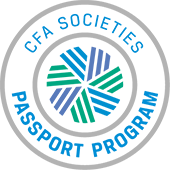 Global CFA Society Passport Event
This workshop is accredited as a Core FAA / SFA CPD course by IBF
This workshop is eligible for 6 CE and CPD hours

Programme Code: P190903OJM


Overview

The 6 hour course will deepen your understanding of ethical issues to uphold ethical standards during performance of individual duties and responsibilities.


At the end of this module, you should be able to:
Demonstrate a thorough knowledge of the Code of Ethics and Standards of Professional C onduct by interpreting the Code and Standards in various situations involving issues of professional integrity
Recommend practices and procedures designed to prevent violations of the Code and Standards of Professional Conduct
Course Outline:

This Ethics workshop consists of 3 modules:
Module 1: Two hours workshop on the CFA Institute Code of Ethics and Standards of Professional Conduct. High ethical standards are critical to maintaining the public's trust in financial markets and in the investment profession. Since their creation in the 1960s, the Code and Standards have promoted the integrity of CFA Institute members and served as a model for measuring the ethics of investment professionals globally, regardless of job function, cultural differences, or local laws and regulations. Module 1 comprises of:

Code of Ethics
Standards or Professional Conduct (guidance including some recommended procedures for compliance)
Material non-public information
Suitability
Knowledge of law
Misconduct
Preservation of confidentiality
Module 2: Three hour workshop on CFA Institute Ethical Decision-Making (EDM) Framework.

This framework provides a lens for situations where the answer is not simply 'right' or 'wrong'. Neither a linear model nor checklist, the EDM Framework presents four key elements of ethical decision-making as illustrated above.

This is also a step-by-step structured framework to identify ethical principles and important facts of a particular ethical dilemma. The participant will then be asked to consider situational influences before acting. In closing, the participant will be prompted to reflect on their actions when resolving ethical dilemmas in the best interests of their clients.

Using case studies to illustrate real-world situations, CFA Institute have designed the ethics course to help you apply this framework with confidence.


Module 3: One-hour multiple choice question assessment after the workshop. Participants should be able to apply the knowledge acquired with confidence.


Who should attend?

This training course is designed for investment professionals who want to better understand dealing with ethical dilemmas in a more structured manner.

This course is also specifically designed to meet the Core Continuous Professional Development (CPD) requirement - 6 training hours in respect of Ethics; or Rules and Regulations, or both, as the case may be:

With effect from 1 January 2016 as per MAS Notice FAA-N13 for all appointed representatives of licensed and exempt financial advisers; and
With effect from 1 January 2019 as per MAS Notice SFA 04-N09 for all appointed representatives of capital markets services licensees and exempt financial institutions.
Participants are not required to have specific prior experience of any of the subject areas. More experienced individuals will be able to build on their knowledge through the case studies used in the workshop.


Course Fee

CFA Society Singapore Member: S$450* (Early Bird Fee) / S$500* (Standard Fee)

Non-Member: S$500* (Early Bird Fee) / S$580* (Standard Fee)


Early bird fee valid till 27 March 2020

*Prices stated are before 7% GST

*10% off for sign up of 3 or more delegates - For Group Sign-ups, kindly download and complete the registration form HERE and email to eventmanagement@cfasingapore.org



TERMS AND CONDITIONS

•Registration will only be confirmed upon receipt of the registration form and full payment.
•No cash payment will be accepted for on-site registration.
•If any registered participant is unable to attend, a replacement is welcome, but a top-up may apply depending on the
membership category of the replacement participant. However, no refund would be made.
•CFA Society Singapore reserves the right to:
* cancel, postpone or make any changes to the terms of the event at its sole discretion without giving any prior notice;
* reject any registrations;
* collect payment shortfall in accordance to the actual membership status of participants.
• By signing and submitting this form, I / we consent to CFA Society Singapore collecting, using, disclosing and processing my / our personal data :
(1) for purposes related to the administration of the registration for the above event;
(2) to send me updates informing me / us of events and activities organized by CFA Society Singapore.
*I understand that my personal data will be used and retained in accordance with the CFA Society Singapore Personal Data Policy available at www.cfasingapore.org

*Kindly note that photographs and video may be taken during the event for use on our website, newsletter, social media, publicity and other related purposes by CFA Society Singapore.
6 CE
CFA Institute members can claim CE credit by providing their CFA Institute ID number when registering.
Speakers
FookLeong Chan is the executive director of advocacy at CFA Society Singapore. He researches and writes on ethical issues, market integrity, financial literacy, and investor-protection topics.
Agenda
Pricing
Group
Price
Members (early bird)

SGD

450

Valid through 27 Mar 2020

Non-Members (early bird)

SGD

500

Valid through 27 Mar 2020

Members

SGD

500

Non-Members

SGD

580
What's Included
*Prices stated are before 7% GST

*10% off for sign up of 3 or more delegates -
For Group Sign-ups, kindly download and complete the registration form HERE and email to eventmanagement@cfasingapore.org