Hosted by CFA Institute, CFA Society Sydney, CFA Society Perth, CFA Society Melbourne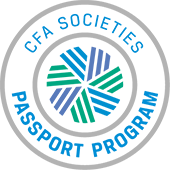 Global CFA Society Passport Event
BEYOND DISRUPTION: The Changing Face of Investment Management
Disruption is everywhere, affecting every aspect of our lives. From technological and business innovation to globalization and demographic shifts, these forces are constantly evolving and accelerating at significant pace.
Join us for the CFA Societies Australia Investment Conference and hear insights from local and International experts on navigating a turbulent global economy and the changing face of investment management. Learn how to harness opportunities and approach new challenges, enabling you to stay current and best serve your clients' needs in the rapidly changing world.
CFA Institute conferences in Asia-Pacific are recognized as a leading platform for thought leadership in the investment and finance industry.
5 CE
CFA Institute members can claim CE credit by providing their CFA Institute ID number when registering.
Speakers
Richard Brandweiner joined LeapFrog Investments as a Partner in 2017. He has a long history within the investment industry in Australia. In 2015, Mr. Brandweiner was named in the Power 100 of Top CIOs in the World and in 2016 he was awarded the Australian CIO of the Year. Richard has more than twenty years' investment experience across all asset classes. Before joining LeapFrog, Richard was the Chief Investment Officer (CIO) at First State Super, one of Australia's largest superannuation funds with over $75 billion in funds under management at the time of his departure.
Guy Debelle commenced as deputy governor of the Reserve Bank of Australia on 18 September 2016. He is deputy chair of the Reserve Bank Board and chair of the Reserve Bank's Risk Management Committee. He is a former chair of the Australian Foreign Exchange Committee and also chaired the BIS Foreign Exchange Working Group, responsible for the development of the Global Code of Conduct for the Foreign Exchange Market. Prior to his current role, Dr. Debelle was the assistant governor (Financial Markets). Dr. Debelle also worked at the International Monetary Fund, Bank for International Settlements, Australian Treasury, and as a visiting professor in economics at the Massachusetts Institute of Technology (MIT). He graduated from the University of Adelaide with an honours degree in economics and gained his PhD in economics at MIT under Stanley Fischer and Rudi Dornbusch. Dr. Debelle is a signatory to the Banking and Finance Oath.
Mark P. Delaney, CFA, is chief investment officer and deputy CEO at AustralianSuper. Previously, he served as CEO and head of investments at STA. Mr. Delaney also held senior positions at AXA and the Federal Treasury of Australia. He is a director of Industry Superannuation Property Trust and of the IFM Investor Advisory Board. Mr. Delaney holds a bachelor's degree in economics.
Michael E. Drew is managing partner of Stonechat Capital; a director of Drew, Walk & Co.; and a professor of finance at Griffith University. He is a financial economist specializing in the areas of investment governance, pension plan design, and outcome-oriented investing. Professor Drew's research has been published in leading practitioner journals, including the Journal of Pension Economics and Finance, the Journal of Portfolio Management, and the Journal of Retirement. He has been invited to make submissions and to testify before numerous committees, including the US Department of Labor and the SEC joint hearing on target-date funds. Professor Drew serves as a specialist member of the QSuper Investment Committee and is a member of the Investment Advisory Board of the Petroleum Fund of Timor-Leste (East Timor). He received his PhD in economics from the University of Queensland, is an Accredited Investment Fiduciary Analyst®, and is a Life Member of FINSIA, the Financial Services Institute of Australasia.
Sonia Gandhi, CFA is a director on the board of CFA Society India, where she overseas the programming and Continuing Education committee. She has worked in the investment industry with several global, blue chip investment banks. At Deutsche Bank, Ms Gandhi served as director, equities, where she was responsible for the APAC client base. Prior to that, she worked with J.P. Morgan, BNP Paribas, and Jardine Fleming, where she was responsible for equity sales, capital market transactions, and global account management. M. Gandhi is passionate about mentoring the next generation of finance professionals, especially women, and regularly conducts ethics workshops for finance students at management institutes and universities across India.
Carol W. Geremia is president of MFS Investment Management® (MFS®) and head of Global Distribution. She leads the firm's worldwide client-facing teams, as well as product and marketing strategy. As a member of the firm's Management Committee, she helps drive MFS' long-term corporate strategy. In these roles, Carol oversees the management of the company's global institutional and retail businesses, which span US and non-US markets. Her responsibilities include oversight of all teams managing relationships with large corporate and public retirement plans, sovereign wealth plans, global intermediaries, insurance companies, retirement platforms and other advisory practices that distribute the firm's investment products.
Carol joined MFS in 1984 and served as co-head of Global Distribution from 2011 through 2017. She has served as president of the firm's institutional business since 2004. Prior to that, she was president of MFS Retirement Services, which serviced US plan sponsors and their participants. There, she spent 20 years devoting her expertise in fiduciary responsibility and stewardship to the retirement industry.
Throughout her 34-year career at MFS, Carol has held roles focused primarily on fiduciary responsibility, stewardship, and sustainability, and she has actively engaged with clients at all levels to ensure that the firm builds products and services aligned with their needs.
Carol is a member of the City Year Seven Generations Board. She also serves as a member of the MFS Charitable Oversight Committee and as an Advisory Council member for Bridge Over Troubled Waters, Inc.
Mary Leung, CFA, is the head, standards and advocacy, Asia Pacific, at CFA Institute. She is responsible for the development, maintenance, and promotion of capital markets policy perspectives in the APAC region. She also oversees the promotion and development of CFA Institute professional standards in the region. Mary has over 20 years of experience in the global financial industry, having worked in corporate finance, wealth management advisory, and fund management. Previously, she was with Coutts & Co, where she was director of Business Development and Management for North Asia. Prior to that she was executive director at UBS AG, where she led the Corporate Advisory Group in Hong Kong. With experience in both the buy- and sell-sides, Mary has a strong understanding of the drivers and dynamics of different investor groups, including institutional investors, corporates, family offices, asset owners, and high-net-worth individuals. Mary graduated from Peterhouse, Cambridge with a degree in Engineering. She is a CFA charterholder and speaks English, Putonghua, and Cantonese.
Dr. Bruce McCabe is a futurist who presents on the technologies changing the world. He has a PhD in organisational and technological innovation and for thirty years has travelled and explored how people innovate and adopt new technologies. He has served as innovation advisor to a long list of multinationals, governments, and universities, and founded or co-founded ventures including KPMG's Innovation Advisory practice and a cloud-based disaster recovery start-up subsequently sold to Unitrends. He also explores the future by writing novels.
Sandi has worked globally and locally in financial services for over two decades, with a focus on superannuation, funds management, investment consulting, and research. Having started her career at Arthur Andersen as a Chartered Accountant, she became the head of consulting at Brockhouse Cooper in South Africa and then a senior investment consultant and head of private markets at Towers Watson Australia. She established her own consulting business in 2011, Orleow Consulting. Sandi currently holds several committee and director roles, including Independent Member Investment Committee Statewide Super, Investment Committee Infrastructure Partners Investment Fund (IPIF), Investment Advisory Board ACT Treasury, and is a director of the CFA Sydney Society and a member of the CFA National Advocacy Committee. Sandi is a CFA® charterholder, a graduate of the Australian Institute of Company Directors, and a Banking + Finance Oath Signatory.
Marian Poirier, CFA, is a senior managing director at MFS Investment Management® (MFS®). She joined MFS in 2012. In her role, she is responsible for managing the distribution team in Australia, as well as for institutional sales in the region. For the previous 10 years, Marian worked for BNP Paribas Investment Partners Australia, where she was co-head of institutional business for Australia and New Zealand. Prior to that, she spent four years with BNP Paribas Asset Management in Paris working in the quantitative equity team as an emerging market portfolio manager. She also served in client service and business development for asset management with Paribas Group Australia for four years. Marian earned degrees in business and French from Queen's University Belfast and a Master of Finance degree from the University of Technology, Sydney. She was a board member of the New South Wales branch of Women in Super for 10 years, concluding in 2015. She is a Chartered Financial Analyst® and a member of the CFA Society Sydney, where she currently sits on the board.
Managing Director of Research Strategy, Asia Pacific, Morningstar
James Shipton is chair of the Australian Securities and Investments Commission. He has more than 20 years of experience in regulation, financial markets, the law, and academia.
Mr. Shipton has served as the executive director of the Program on International Financial Systems at Harvard Law School. Prior to that, he led the intermediaries (supervision and licensing) division of the Securities and Futures Commission of Hong Kong. Mr. Shipton also managed government and regulatory affairs for the Asia Pacific and the prime brokerage business at Goldman Sachs in Hong Kong. He began his career as a funds and securities lawyer at law firms Linklaters and Blake Dawson Waldron. Mr. Shipton has previously served on the boards of the Alternative Investment Management Association's Hong Kong and China chapter, the Asian Securities Industry & Financial Markets Association, and the Hong Kong Treasury Markets Association.
Maria Wilton, CFA, has a 30-year history in the investment industry with leadership experience in asset management and superannuation. She is a member of the Board of Governors of the CFA Institute, deputy chair of Infrastructure Victoria and a director of Victorian Funds Management Corporation. She is chair of the National Diversity Committee and a member of the Advocacy Council of the CFA Societies Australia. Maria is the former managing director and chair of Franklin Templeton Investments Australia and senior director of International Advisory Services - a role she held for 12 years. She was responsible for the management of Franklin Templeton's activities in Australia and New Zealand, and for driving the strategic direction of the Australian business. Prior to joining Franklin Templeton, Ms. Wilton was with BT Financial Group (formerly Rothschild) and County Investment Management where she was a diversified fund and fixed income portfolio manager. She began her investment management career at JP Morgan Investment Management as an economist and portfolio manager. Before joining the investment management industry, Ms. Wilton worked for the Commonwealth Treasury in Canberra in an economic research capacity. Maria is a fellow of the Australian Institute of Company Directors and the Australian Institute of Superannuation Trustees. She was a board member of the Financial Services Council and co-chair of the Investments Board Committee. She was a trustee director of AGEST and Emergency Services and State Super and a member of their Investment Committees. She was a director of Melbourne Water, the Transport Accident Commission, the National Breast Cancer Foundation and Victoria Legal Aid (VLA), and chair of the VLA Audit Committee. Ms. Wilton holds a bachelor of economics from the University of Tasmania and is a Chartered Financial Analyst (CFA) Charterholder.
Agenda
Location
Venue
Sofitel Sydney Wentworth Hotel
61-101 Phillip Street, Sydney, NSW 2000
Pricing
Group
Price
Early Bird Member Ticket

USD

300

Valid through 01 Sep 2019

Regular Member Ticket

USD

350

Early Bird Guest Ticket (Non-Member)

USD

400

Valid through 01 Sep 2019

Regular Guest Ticket (Non-Member)

USD

450
Event Info
Members: In order to access member pricing, you must login by clicking on the button located in the upper right-hand area of the registration page. You must use your login details that are associated with your CFA Institute account.
Guest Registration will not reflect member pricing. Please click on the Register Now button at the top of the registration page.
Dress Code: Business